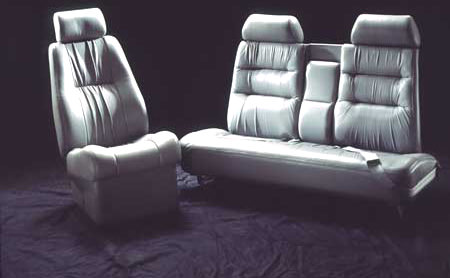 Designed to enhance physical comfort as no other seating package on the market. Our varying density support structures do indeed produce heavenly seating.
Electronically controlled contour saws utilize computer-generated data to produce precise replicas of any prototype. This insures uniformity for any size job.
Aviation Design is expanding design options.
Some of these options include CONFOR™ FOAM. Now imagine combining energy absorbing, temperature sensitive, space age CONFOR' FOAM with the most comfortable seating going.
Very hard to work with and expensive. Aviation Design has mastered the skills needed to combine the two. (see CONFOR™ FOAM Sheet).
Meticulous attention to details and unparalleled styling in our products.
Twin and Turbine seats picked up and delivered anywhere in the World.
Full Aircraft Interior Renovations also available.
Aviation Design is founded on the principles of quality, durability, comfort and style.
Click Here for Before Pictures