Due to their shock-absorption properties, CONFOR™FOAMs are used in military pilot ejection seats and in space. Originally developed as a seating material for the US Space Program, CONFOR™FOAM helps dissipate impact energy, instead of recoiling and amplifying it. CONFOR™FOAMs do not restrict circulation--the chief cause of pain and fatigue in long term seating situations.
CONFOR™FOAM is available in a broad range of stiffness and densities. These engineered foams afford greater design flexibilty in seating and numerous other cushioning applications, primarily because of the Damping properties. While CONFOR™FOAMs slowly deflect under sustained pressure, damping causes them to behave like stiffer foams when they receive an impact. The foams ability to dissipate energy prevents them from bottoming out, or collapsing completely, and virtually no energy is returned to the impacting body.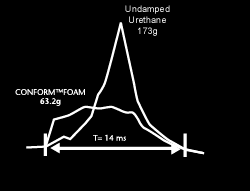 A drop-shock test (when a 16.9 weight is dropped from a height of 2 feet onto one inch-thick materials) demonstrates CONFORM™FOAMs energy-absorption capabilities. Peak acceleration response registers 173g with an undamped urethane foam, but only 63.2g with CONFORM™FOAM.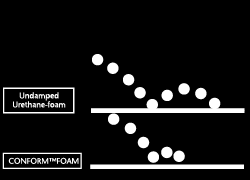 The classic "golf ball drop" shows that an undampened urethane returns nearly all of the impact energy, while CONFOR™FOAM absorbs it.
As these graphs illustrate, CONFOR™FOAMS can provide the optimal combination of performance and safety.