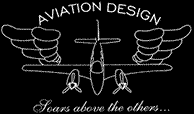 209 840-1472 cell

LEADERS IN PRODUCT DESIGN
WE COMBINE OLD WORLD
CRAFTSMANSHIP WITH NEW
WORLD TECHNOLOGIES.
---

Mail order
Mooney Cockpits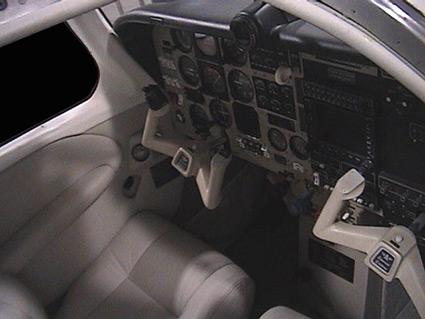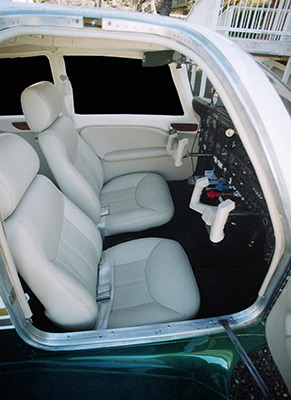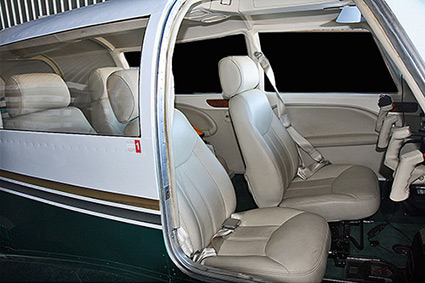 ---
Mooney Interiors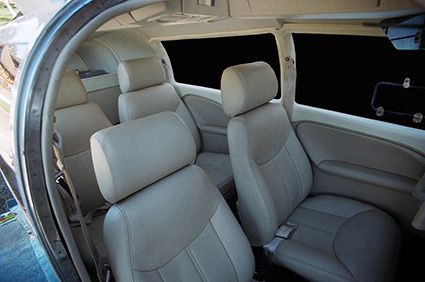 ---
Mooney Doors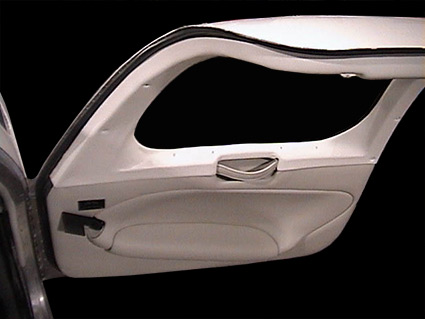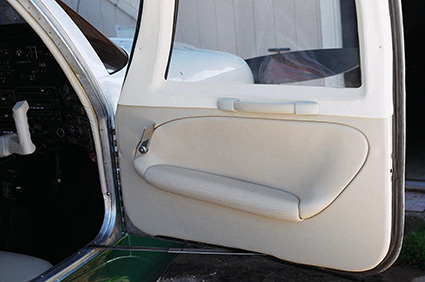 ---
Refurb of the Month: Bennett Bibel's Mooney M20J
If you can't afford a new airplane -- and let's face it, most of us can't -- a refurbed late-model aircraft can do 90 percent of the mission at a fraction of the cost, especially one like the popular Mooney M20J 201. That's the strategy Bennett Bibel followed in his pull-out-all-the-stops rebuild of a 1983 J-model, which we've picked as our refurbed aircraft of the month.
"I decided to make her as close to a 'new' Mooney as I could," Bibel told us. LASAR (Lake Aero Styling and Repair) in Northern California stripped the airplane down to its bones and replaced all the major wear airframe parts. "The engine had been rebuilt about 300 hours previously, and was gram matched, flow matched--a very custom engine," Bibel says. The airplane was stripped and painted at ArtCraft at Santa Maria, CA, including airbrushed striping.
Bibel went first rate for the interior, too, with Aircraft Design in Groveland, CA. designing and building a new interior to match the leather work in Bibel's Mercedes SL500. "The side panels are carbon fiber and aircraft honeycomb, leather covered, as are the window frames, and everything from glareshield to carpets is new. I added a co-pilot articulating seat to match the pilot's seat – the Mooney factory built one for me, as there were none available in the supply chain," he told us.
Also installed were a LoPresti BoomBeam HID landing light and LED wingtip landing lights and strobes, a Power Flow Exhaust, a one-piece glass belly panel and other speed mods.
Last, the big ticket panel. Executive Aircraft Maintenance in Scottsdale, AZ, built a custom panel with a Garmin GTN 750 with remote transponder and remote audio panel, a Garmin GNS430W, a Garmin aera796 in an AirGizmo panel mount coupled to the GTN 750, a KAP 150 autopilot driven through an Icarus SAM GPSS steering unit, a Mid-Continent Life Saver electric AI with battery backup, an electric backup vacuum pump, a JPI830 engine monitor, a panel mounted CO2 detector, an Emerging Life Technologies 406 ELT with self-contained GPS and a Dynon D1 EFIS as a backup to a backup.
"Having lost two vacuum pumps while IMC, I am ever more cautious, almost to the point of ridiculousness, but when things go south, any tool at hand can save your life." We can't argue the point.